This Autumn is proving a very special one for our Ski-Chalets in Limone.
We are only on November 14 and – in 3 days, on Friday 17 – the ski-lifts will pre-open, thanks to the snow fall of last week.
Yes last week we had nearly 1 meter and 30 centimetres of snow on the slopes of Limone, and – thanks to the pro-active approach of the company who manages the ski-slopes – this Friday the ski-lifts will open for a few days.
Actually originally they thought to open only for Friday, Saturday and Sunday, and then again the following week-end, but yesterday they decided – taking on board our suggestion – to keep the ski-lifts open for Monday too.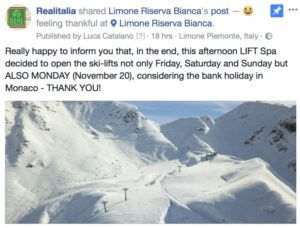 On Monday November 19 in fact will be bank holiday in Monaco, which is only 85 km away to Limone and full of enthusiasts for the Italian ski-resort, who regularly ski in Limone.
Last week we also exchanged contracts on the holiday home Chalet no 2, on which we are working very actively now, to complete the foundations as soon as possible, and hopefully before the weather will actually change for the Winter.
To complete the basement of the Chalet in the next few weeks would give us the opportunity to take our time to conceptualise the house in December and January, and to organise the building of the rest of the Chalet towards the delivery, for the next ski-season.
If you are thinking to purchase one of our off-plan Chalets in Limone, act quickly and save money. On November 27, 2017 our Pricing Guidelines will increase.
Contact us direct to discuss it further.