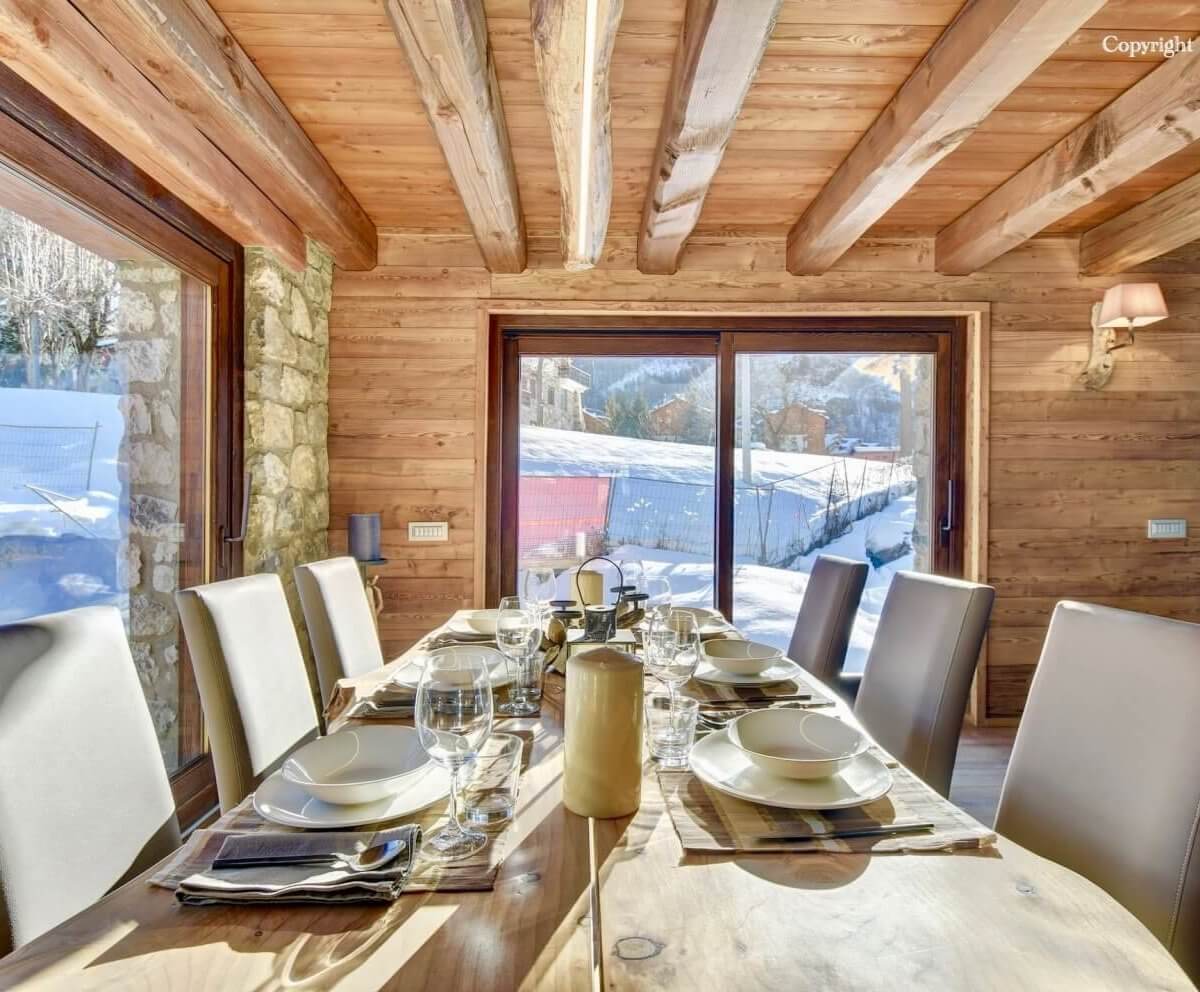 We are delighted to offer this newly completed fully detached 5 bedroom 4 bathroom home with private SPA, complete with a two cars private lock-out garages, laundry room and cellar/storage space.
This is a rare opportunity to purchase a newly finished (and Realitalia Interior Designed) holiday home Chalet of circa 292 square meters gross floor area (+ 98sqm exterior balconies/garden). The creation of an additional loft area (approx 28/30 square meters gross) can be investigated, subject to planning. The house is fully detached, South facing and features:
On the first floor: a spacious master bedroom with en-suite bathroom (and access to the terrace), two additional bedrooms with a bathroom.
On the ground floor: blissful lounge with a fully equipped open plan kitchen, dining area, large fireplace and a bathroom. Access to the private garden.
On the lower ground floor: two additional bedrooms, one bathroom, and luxurious private SPA.
Sub lower ground floor: large garage, second garage, laundry room and cellar.
The pricing guidelines for Holiday Home Chalet no 2, is priced at 1,490,000 ml Euro plus transactions costs and tax.
With the Loft Conversion Planning Permission (without it being built) +40,000 Euro.
Find the e-brochure of the holiday home Chalet no 2 >>

Find the concept design of this Chalet >>

Villa Almellina Estate Limone
9 or 10 traditionally built ski Chalets (*), independent and semi-independent houses in the gardens of the historical re-built Villa Almellina, in between the slopes and the center of the charming pedestrian village of Limone (at 5 minutes walking to center/slopes).
Villa Almellina Estate is in one of the sunniest positions of Limone, getting sun from early morning to late afternoon. The larger Chalets feature private wellness centres and Spas (comprising Turkish bath, sauna, whirlpool and rain showers), while the smaller Chalets have access to the hotel SPA. The hotel will also offer management services, in accordance with the Realitalia Management Concept.
Large panoramic windows and private outside gardens and terraces offer magnificent views of the mountains around. All Chalets are designed and constructed with the most advanced environmental friendly building techniques.
You will be able to decide for the Realitalia Premium Specifications (please ask more) and the appropriate home automation technology. High energy certification will be obtained in the current concept designs. All Chalets but one have private garages with direct private access to the Chalets (price of the garages not included into the pricing guidelines).
Personalised Realitalia off-plan interior design service (you decide your own layout) is available to you.
Customisation is very welcome, subject to feasibility, planning restrictions and building site planning. You have the option to take possession of your Italian holiday home fully fitted and furnished on the day of completion, ready for you to enjoy.
Owners can benefit from the Realitalia Management Concept and letting system, through the Hotel.
Around 90 minutes from Nice and Turin Airports. Monaco and the Cote d'Azur is at 85 kms. Accessible by train from both airports, 4 minutes walking to the Limone train station.
(*) Some of the properties are residential, others are "Holiday Homes" (which refers to what contained into Piedmont Regional Law no 13 dated August 03 2017 and subsequent modifications and/or regulations), please contact us for further details and seek appropriate legal advice.
Limone Piemonte
Limone is one of the oldest ski-resorts in Italy, actually the oldest ski-resort in North West Italy together with Bardonecchia. The first ski-race in Limone took place in 1907, and in 1937 it was installed one of the first "ski-lift" that was called SLITTOVIA.
Limone is also one of the very few ski-resorts in Italy to have a train station, connection with both the seaside (Ventimiglia and Nice) and the inland towards Cuneo and Turin.
Normally people think of Limone for the Winter, the reality though is that it is a great place in Summer too, at only 85 km from Monaco and the Cote d'Azur.
PROPERTY HIGHLIGHTS
Realitalia 100% Interior Design Solutions in English, French, German and Italian
5 mins from the slopes
5 mins from the town center
Hotel management in accordance with the Realitalia Management Concept
Private gardens & terraces
Beautiful views
Access to hotel SPA
90 mins from Nice and Turin airports
85 km from Monaco and the Cote d'Azur
Optional private SPA
**Please note the images are from our show Chalet and/or our recently completed Properties**
IMPORTANT NOTICE
Please note that:
We have no authority to make or give any representations or warranties in relation to the Properties. These particulars do not form any part of an offer or contract and must not be relied upon as statements or representations of fact.
All areas, measurements and distances are approximate (if square meters indications are supplied they normally refer to gross floor areas). All texts, photographs and plans are for guidance only and are not necessarily comprehensive.
Some of the properties are residential others are "Holiday Homes" (which refers to what contained into Piedmont Regional Law no 13 dated August 03 2017 and subsequent modifications and/or regulations), please contact us for further details and seek appropriate legal advice.
Properties are delivered in accordance with the Standard Specifications. Fitting and furniture as well as the Realitalia Interior Design Solutions and the Realitalia Premium Specifications are not included in the prices shown, which are pricing guidelines.
The pricing guidelines are expressed in euros, do not include VAT or transaction costs, and do not include parking spaces and/or garages. All informations is subject to change at any time without notice.

The loft conversion planning permission will allow the new owner to create an additional room with en-suite bathroom, as well as a terrace at the top floor (floor plan below).  Please note that only the planning permission is included in the pricing guideline of the Chalet and not the work to actually convert that area
To discuss it further, please call us +44 (0) 207 851 4456 or write to us, we will contact you back.